Events
11:00am Center Court

Join Miss Kasey every Tuesday in Center Court for storytime, arts and crafts, and exciting educational activities! This event is FREE!
For more information please call (330) 652-6980 ext: 31508.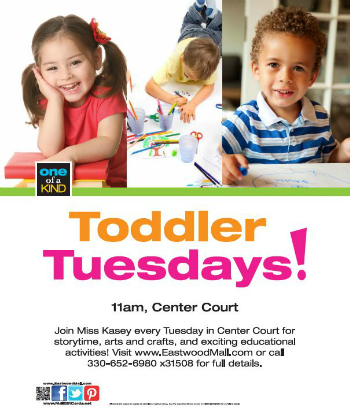 June 11 - August 6, 11:00 a.m.
Make it and Take it Summer Program sponsored by Creative Corner Learning Center
11:00am, Center Court
Join Creative Corner Learning Center every Thursday June 11 - August 6 for different themed fun summer activities! Please call 330-652-6980 for full details.
Make It and Take It Physical Activity/ Game
6/11 - Week 1: pet rocks alphabet yoga
6/18 - Week 2: simple snakes freeze game
6/25 - Week 3: straw rockets/ firework twister
7/2 - Week 4: pipe cleaner critters limbo
7/9 - Week 5: jungle animals/ binoculars hula hoops
7/16 - Week 6: bottle cap magnets parachute
7/23 - Week 7: styrofoam crabs twist and shout
7/30 - Week 8: star wars light saber beach ball fun
8/6 - Week 9: candy flowers dianosaur relay races
July 1st - While supplies last.
CELEBRITY MEET & GREET
GIFT WITH PURCHASE!
Present $100 or more in same day Eastwood Mall Complex receipts and receive a Meet & Greet FAST PASS for Keegan Allen or Karan Brar. Each qualifying customer has their choice between a fast pass for Keegan Allen or a fast pass for Karan Brar (while supplies last.)
Keegan Allen will be at the Eastwood Mall on Saturday, August 1st from 1:00pm - 4:00pm.
Karan Brar will be at the Eastwood Mall on Sunday, August 2nd from 1:00pm - 4:00pm.